Have you ever wondered if buying organic is worth it? Maybe you have limited funds and are curious to know if certain foods are best to buy organic.
Perhaps you came across the Dirty Dozen in your search.
What is the Dirty Dozen?
Every spring the Environmental Working Group (EWG) releases a guide with lists of fresh produce. Fruits and veggies are ranked high (bad) to low (good) indicating the amount of pesticide residue they contain.
The highest 12 rankings are deemed the Dirty Dozen. If you wonder what is best to buy organic, the list implies it's best to buy organic from the Dirty Dozen.
Here's the thing
The EWG – an advocacy organization with financial ties to the organic industry – does not do any testing. They create their annual rankings based upon the USDA's Pesticide Data Program. Pesticides used on crops are tightly regulated and "The presence of a residue is not equal to the presence of risk," affirms Dr. Joe Schwarcz, Director of Office for Science and Society at McGill University.
"The Dirty Dozen list is developed using arbitrary and inappropriate indicators of pesticide exposure and, as such, lacks meaningful scientific merit," according to Food Toxicologist Carl Winter, PhD.
Understand this – the intent of the list is to diminish trust in conventional farming while promoting pricey organic alternatives.
https://www.youtube.com/embed/SdimRxmPvik
My Issue with the Dirty Dozen
Why am I bothered by the Dirty Dozen list?
Lists like this create fear. It's this fear-based marketing that is so prevalent in our food industry yet the U.S. has one of the safest food supplies in the world. We need people to eat more fruits and vegetables, regardless of how they're grown.
My first job as a registered dietitian nutritionist was working at the county hospital Parkland here in Dallas. County hospitals are known for working with the underserved population and I loved my job. I was there almost seven years and learned so much from my patients.
Quite honestly, though, in some cases I would be thrilled if they had eaten a fruit or vegetable a week, let alone every day. If I told my patients that they should choose organic foods that are in this dirty dozen, I would have done them a tremendous disservice.
It's frustrating. As I was looking online, I came across a YouTube channel with a large following. He was talking about the dirty dozen and made this statement.
"… some of the dirty dozen is scary dirty. I mean, we're talking so many pesticides. We're talking also poisonous gas in the soil that leaves it basically sterile. It's terrible."
Talk about putting fear into someone. Thinking they should consume organic, especially when it comes to certain foods.
When you hear organic food
When you hear "organic food", what comes to mind? Maybe you think it's healthier, more nutritious, or that it's pesticide-free.
Newsflash! Organic produce uses pesticides.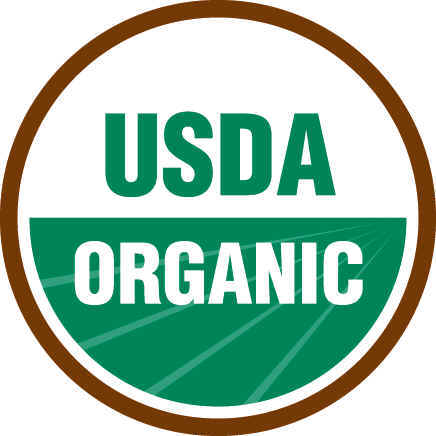 The organic seal does not mean pesticide-free. Pesticides are made from plants as well as several synthetic ones.
The Electronic Code of Federal Regulation has a national list of allowed and prohibited substances in organic food. In one subsection, there are some synthetic substances allowed for use in organic crop production, including pesticides.
Organic produce is not pesticide-free.
In a study of low-income shoppers, "Messages naming specific fruits and vegetables with pesticides shifted participants towards less likely to purchase any type of fruit and vegetable. Regardless whether organically or conventionally grown."
That's not a good message.
Pesticide Residue Calculator
Curious to know your risk? Check out this resource on the Alliance of Food and Farming website – a pesticide residue calculator – Safe Fruits and Veggies.
Since I eat grapes nearly every day I used the calculator to calculate if I was in danger.
"A woman could consume 672 servings of grapes in one day, without any effect from pesticides. Even if those grapes had the highest pesticide residue recorded for grapes by the USDA."
That's pretty crazy. I've no need to be concerned – neither should you.
Let's look at a different example – kids and apples. A child could consume 340 servings of apple in one day without any effect from pesticides.
So don't let this fear-mongering that pesticide residue is horribly high. It's not.
Final thoughts
Shouldn't we be emphasizing more wholesome foods – regardless? Focusing so much on synthetic pesticides draws away from our real health problems – inactivity, poor diets, stress, lack of sleep.
So, what should you do?
If buying organic makes you feel better and you can afford it, do it!
Don't feel guilty if organic food doesn't fit into your budget.
Buy local, in season, and if you're lucky to have a green thumb – plant a garden!
Remember to always wash produce well.
Want help navigating today's confusing world of nutrition info so YOU can find your BEST approach? Let's chat! Book a call with me!
Bottom line – eat fruits and veggies, regardless of whether organically or conventionally grown.
Disclosure: Although I rarely buy organic, I respect those who do.
-Neily
---
Jennifer "Neily" Neily, MS, RDN, LD, FAND
Registered Dietitian Nutritionist | Wellcoach® Certified Health Coach
https://NeilyonNutrition.com
@JenniferNeily Twitter | @NeilyonNutrition Instagram